Helpful guides to getting the best print result
Using the very best fine art papers, your original artwork can be reproduced as a limited edition Giclee Fine Art Print.
Our fine art papers are sourced from these three world famous paper mills - Hahnemuhle - Canson and Arches - St Cuthberts Mill.
We hope you enjoy using our print ordering tool.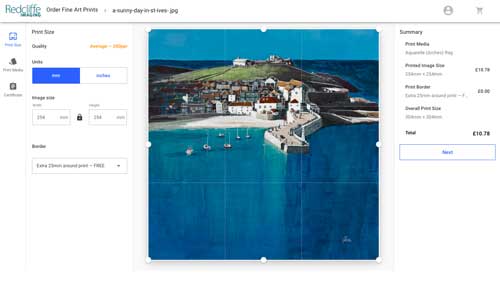 From Start Your Order choose Order Giclee Fine Art Prints. Make sure you sign in before you start so that you can access your image gallery.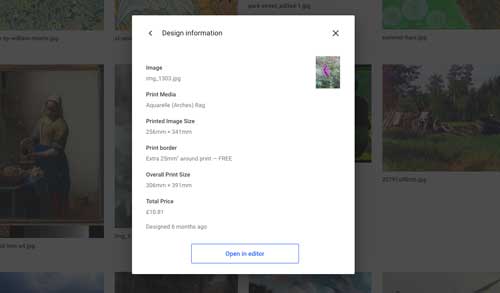 If you want to repeat a previous print order, then sign into your account, and check through your gallery. Here you will find all your previous image uploads and print orders.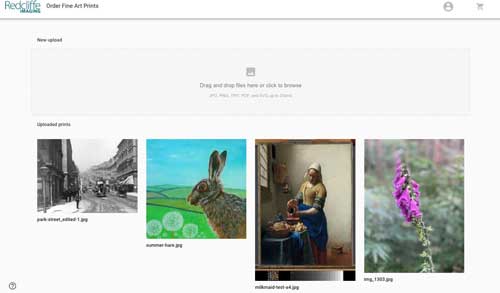 Use the same account to sign into both Fine Art and Greeting Card printing services. Your gallery of previously uploaded images will now be available to you on both printing services.
Here are some more frequently asked questions about giclee fine art printing:
1. What is giclee printing?
Giclee printing is a fine art printing method that uses high-quality, fade-resistant, archival inks and a specialized printing process to produce high-resolution, museum-quality prints.
2. What type of paper is used in giclee printing?
Giclee prints are typically produced on fine art paper or canvas. The paper used should be acid-free, pH neutral, and archival quality to ensure the longevity of the print.
3. What is the difference between giclee and other types of printing?
Giclee printing offers higher resolution, a wider colour gamut, and a more fade-resistant output compared to traditional printing methods such as offset printing or digital printing.
4. Is giclee printing suitable for limited edition prints?
Yes, giclee printing is often used for limited edition prints because of its ability to produce high-quality, long-lasting prints that are well-suited for preservation.
5. How does giclee printing compare to traditional fine art printing methods?
Giclee printing offers several advantages over traditional fine art printing methods, including greater accuracy in colour reproduction, wider tonal range, and the ability to print on a variety of substrates.
5. Are giclee prints as good as original artworks?
Giclee prints can be incredibly high-quality and are often mistaken for original artworks. However, the value of an original piece of artwork is subjective and cannot be replicated by a print
Do you still have a question?
For more information or advice on fine art printing, please call Thomas on 0117 952 0105.
Or use our Contact Form to get in touch.