Get Started With A Facebook Strategy
You probably already have a personal Facebook page that you use to keep in contact with friends and family. What you need next is a business Facebook page to promote and sell your work.
You can set up a free Facebook business Page in a matter of minutes, from any mobile device or a computer, see setting up your page. Use this as your official artist's page to engage and build an audience interested in your work.
Share your art
Start posting content maybe once or twice a week. Share images of your art, news items about you and your work - recent sales, gallery events or consider posting a video of you creating art or an album of your latest work. Images and videos predominate on Facebook, which is why you can achieve a good following if you do it well.
Engage with others
Social media is about engaging with others, so ask questions, post helpful hints and link to articles you think your audience will also like and share. Stay active in the Facebook community by liking other artists work, comment on their posts and take part in the discussions. This is the best way to make yourself visible and spread your brand as an artist.
Try Facebook advertising as a cost effective way to bring many more potential followers to your page with offers and promotions designed to sell your art.
Need help getting your Facebook page going? You can get free access to more than 80 online courses by registering to Facebook Blueprint, here you will find the tools you need to learn how Facebook can grow your art business.
---
Should I also use Instagram to sell my art?
Yes, Instagram is another great way to promote your work. Instagram lends itself well to artists as it is primarily focused on sharing images and many artists now use Instagram as a way to show their working process and to sell their paintings.
Instagram can easily link into your current Facebook page or website. You can do this by adding the Instagram Widget to your website. This will encourage your Facebook and website fans to follow you on Instagram and vice versa.
Instagram done well
Artist Chris Austin enjoys "flash sales" of his latest work, getting emails from eager buyers within minutes of posting on Instagram.
The Toronto based artist, Chris Austin, has 19,000 Instagram followers who wait each day for Austin to post a photo of his current artwork to Instagram and declare it "for sale." Within minutes, he says, followers start emailing him. Whoever emails him first gets the piece.
"Instagram is really neat because it immediately connects you to a global audience," Austin said. He's shipped paintings as far as Australia and Japan.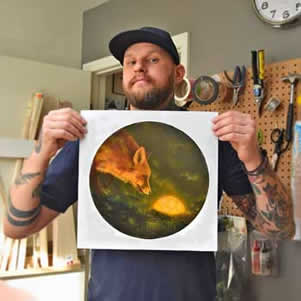 ---
Some convincing statistics for selling art online
Read the Hiscox Online Art Trade Report - 2019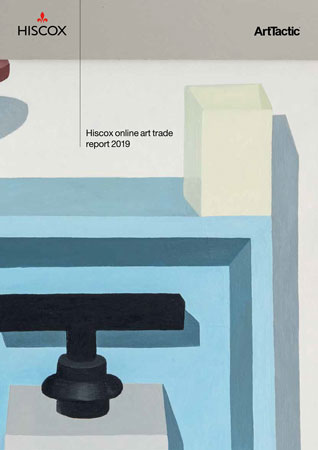 Online art market sales reached an estimated $4.64 billion in 2018, up 9.8% from the year before.
The use of mobiles to buy art has increased significantly in recent years, rising to 24% in 2019 (up from 4% in 2015).
Instagram has become the art world's favourite social media platform, with 65% of survey respondents citing it as their platform of choice (up from 63% in 2018, 57% in 2017 and 48% in 2016).
Although still popular, the prominence of Facebook has diminished, with only 38% of respondents citing it as their preferred social media platform (down from 49% in 2017).
So what is it that makes Instagram so popular?
The simplicity and the visual nature of Instagram is ideally suited to the art world, which combined with its mobile functionality makes it the ideal app for the art world on the move. Although many apps in the art world have been created specifically with the art world in mind, the power of Instagram is that it wasn't, and with close to 1 billion users, there is no doubt that it is becoming a very important tool for the art industry in reaching consumers beyond the existing art market.
Trends
Search and discovery - 80% of art buyers use Instagram to discover new artists.
Follow - 79% of art buyers use Instagram to follow and keep up-to-date with artists with which they are already familiar.
Trending - 75% of art buyers use Instagram to see what is popular and/or trending.
Influence on buying - 34% of art buyers said that social media had an increasing impact on their decision to buy art (up from 32% in 2018).
Instagram - 75% of art galleries surveyed use Instagram to promote their artists and their exhibition programme (up from 61.5% in 2018). 54% of these galleries find Instagram the most effective social media platform in terms of selling and generating direct sales leads.