Open or limited edition prints
As any artist who sells their own work knows, once your pride and joy is gone, that's it. Now imagine if you could reproduce some of your more important pieces on demand and then sell them as very high quality art prints, often on the same media the original was produced on. Suddenly you have opened up endless possibilities for increasing the revenue from your work. Giclee fine art prints made from your original artwork, as an open or limited edition print, is another way to market your work.
One advantage that digital printing offers to the artist and publisher is that the edition can be printed on demand as print orders are received. Giclee images reproduced from your original paintings, watercolours or drawings are recorded as a digital file and can be produced whenever required. An archived copy of your image file can be kept for you to call off single or multiple copies at any time, this enables you to avoid the high cost and risk of producing a complete print edition all at once.
One of the biggest obstacles for many artists is how to price their work, too high and it may never sell, too low and you lose valuable income. In an attempt to make their work more affordable, whilst still maintaining very high levels of quality, many self publishing artists and photographers now make use of giclee printing as a way to produce their art prints. They have found that it allows them to reach a greater section of their potential market, people who would otherwise never invest in expensive original art works.
The Artist's Guide to Selling Work - Annabelle Ruston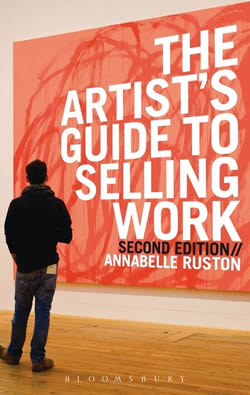 This best-selling guide provides all the advice artists and craftspeople need to sell their work in today's competitive market. This fantastic new edition has been updated with essential advice on how to make full use of digital opportunities for selling your work, such as social networking and e-marketing. 
The book also contains sample contracts and a list of other legal considerations, notes on websites and Internet sales and lists of useful addresses. This book aims to be every artist's handy guide on how to go about selling their work.
The indispensable handbook for all working artists and photographers, it is packed with very useful, practical and pragmatic information. Written in an easy to understand style, the sections on contracts and copyright are a must for any self publishing artist.
It contains information and suggestions about:
Selecting and approaching galleries 
Pricing and payments
Royalty rates and financial management
Sample contracts and other legal considerations
Creating a website and maximising hits
Mastering social media to increase your visibility
Managing sales via online stores such as Etsy, Folksy or eBay
Printing your own reproductions and marketing them