Why Make Giclée Fine Art Prints?
As any artist who sells their own original work knows, once your pride and joy is gone, that's it. Now imagine if you could reproduce some of your more important pieces on demand and then sell them as very high quality art prints, often on the same media the original was produced on.
Suddenly you have opened up endless possibilities for increasing the revenue from your work. Giclee fine art prints made from your original artwork, as an open or limited edition print, is another way to market your work.
Print on demand
One advantage that digital printing offers to the artist and publisher is that the edition can be printed on demand as print orders are received.
Giclee images reproduced from your original paintings, watercolours or drawings are recorded as a digital file and can be produced whenever required.
An archived copy of your image file can be kept for you to call off single or multiple copies at any time, this enables you to avoid the high cost and risk of producing a complete print edition all at once.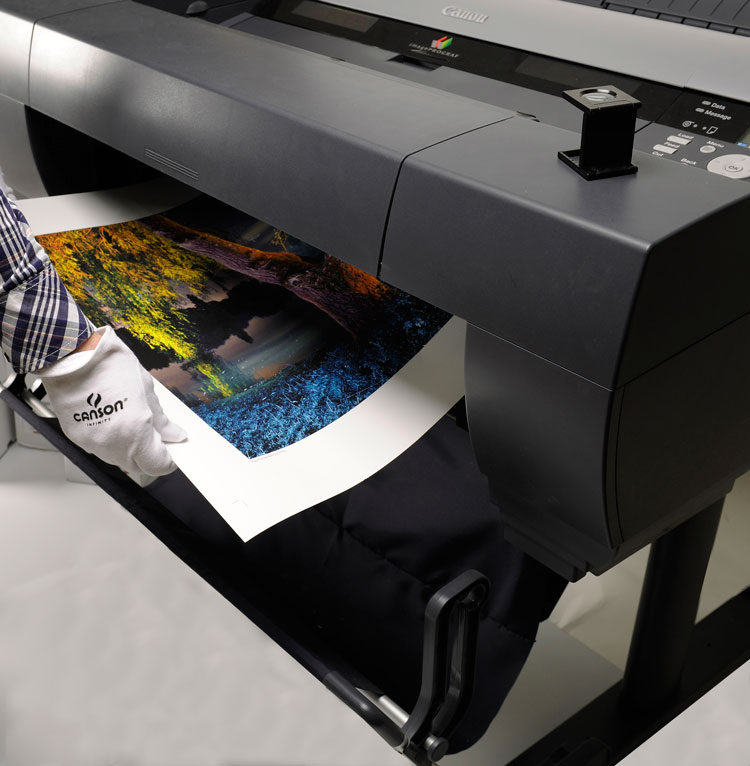 Archival quality printing
Traditionally, artists have used offset lithography and screen-printing to reproduce runs of prints, both these photomechanical methods of reproduction use plates or screens.
Giclée Printing refers to a printmaking method that involves using a digitised image outputted from a computer to a large format inkjet printer. The term "giclee" is derived from the French for "spray" and was first coined by Jack Duganne, a printmaker, to represent an inkjet-based digital print used as fine art.
To qualify for the title of a "fine art giclée print" it should be made on archival quality coated paper, and printed with pigment based archival inks, which are UV stable. The Fine Art Trade Guild has set minimum standards for a giclee print - it must score 6 or more on the Blue Wool Scale for light fastness, with an acidity level of between pH7 and pH9, to minimise discolouring.
The quality of the paper or canvas used in a giclee print is very important. Fine art paper mills such as Hahnemuhle, who have been producing mould made artist papers for over 435 years, have an extensive range of fine art papers used in giclee printing. The final result will be a superb giclee print, often on the same media as the original artwork.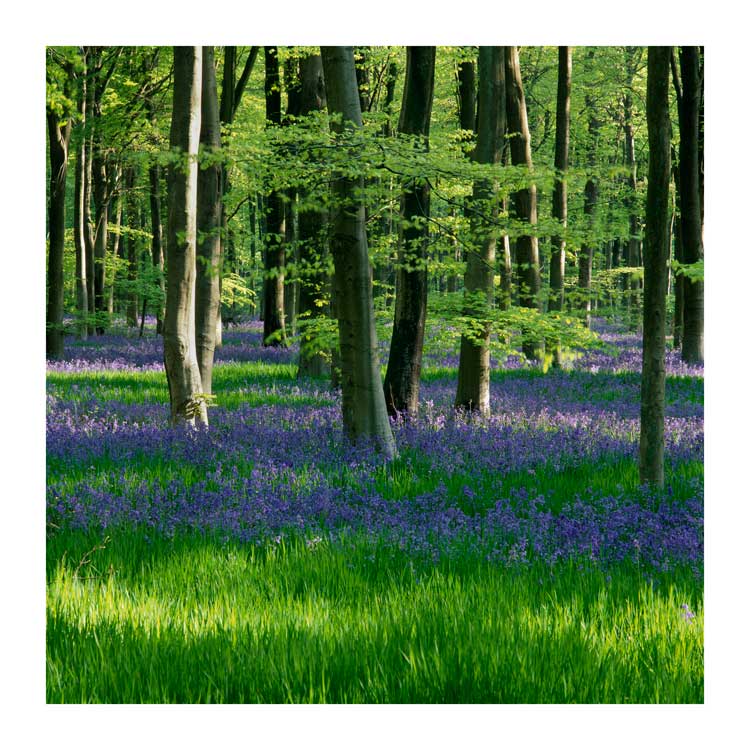 To achieve a very high standard of colour reproduction with neutral greys, a typical giclee printer will use a twelve colour pigment based ink set, comprising of red, blue, green, grey, photo grey, cyan, photo cyan, magenta, photo magenta, yellow, regular black, and matte black.
A giclee print made using pigment inks can be lightfast for up to 100+ years, but this depends on factors such as paper type and storage conditions. By using pigment based archival inks, the archival properties of a giclee print are significantly higher than traditional silkscreen or litho prints.
Scanning or Digitising your Artwork
The first step is to digitise your original painting or artwork. A very high quality scan is made that accurately captures all the colour and detail of the original.
Good colour management in the form of ICC (international colour consortium) profiles of the scanner, computer screen and printer ensure that the final print is as close as possible to the original for colour and density.
Once the scan or digital file is made, you can print on demand - order as many copies or as few as you wish.
You are not committed to the high quantities or costs of offset litho printing and therefore cut down your costs by only printing what you sell. You don't have unsold prints to store, and you also have the option to print your work on different paper types and at different sizes.
Redcliffe can create a very high quality digital file from your artwork, for small artworks up to A3 we use a high end flat bed scanner and for very large artworks we use a large format studio camera.
Learn More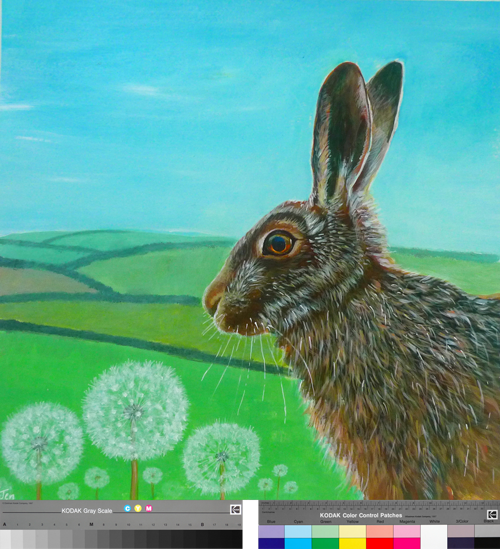 Print Quality
What sort of problems might an artist expect when choosing to produce a giclee print from an original artwork? There are only two issues to be concerned about - scan quality and choosing the right media to print on. Getting the scan right is probably the most important factor in the whole process, there is an old saying in the scanning industry - rubbish in, rubbish out - in other words if you start with a poor quality scan then you will be disappointed with the final result.
Already have a digital file of your artwork, but unsure if your file is suitable for printing to a certain size or what it would look like on your chosen media?
Proof prints are the traditional way to check the suitability of your file, you get to see first hand exactly how it will look. However, if you are not sure about proof prints you can choose to use our alternative free file checking service.
Just upload your file, enter the final print size you want to achieve, select the print media and either order proof prints or select the free file check option.
Learn More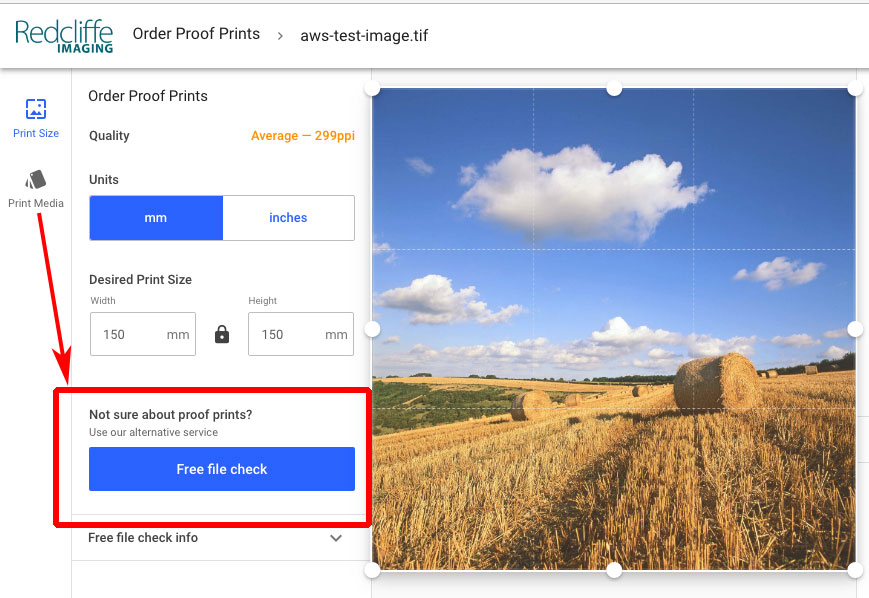 Subscribe to Our Email Newsletter
Sign up for our newsletter and save 10% off your first fine art giclee print order.
Receive special offers, information on new products and services, as well as helpful guides on selling and marketing your work.