Many self publishing artists, illustrators and photographers use greeting cards of their artwork as a cost effective way to market their work to a wider audience.
At an art show you may find people reluctant to spend a lot of money on your original artwork or photography, but they will happily buy a good quality greeting card of your work. It will serve to always remind them of your work and may get seen by many more people.
You may be able to find places to sell your greeting cards such as art and craft fairs. Try craft shops, bookshops and galleries that already carry greeting cards and ask if they will also accept your cards for sale. You will soon have a good idea about which design sells best.
Postcards are also a very valuable way of marketing your images or artwork. You can use postcards to keep in touch with previous customers and let them know, with a personalised message, about new work or upcoming exhibitions of your work. Don't forget to include your web address and contact details.
Both greeting cards and postcards are very effective, low cost and simple to use, you are overlooking a profitable marketing tool if you don't use them.
Design & print your own cards
Redcliffe Imaging can produce very high quality greeting cards and postcards direct from your digital image files and we put a lot of care and attention into achieving the result that we hope you will be delighted with.
Use our online Card Design Tool to create your own high quality greeting cards. You get to see exactly how your card will look when printed.
Your high quality greeting cards are printed, trimmed, creased and finished by hand. Each card comes with a choice of envelope colours and self seal acetate sleeve.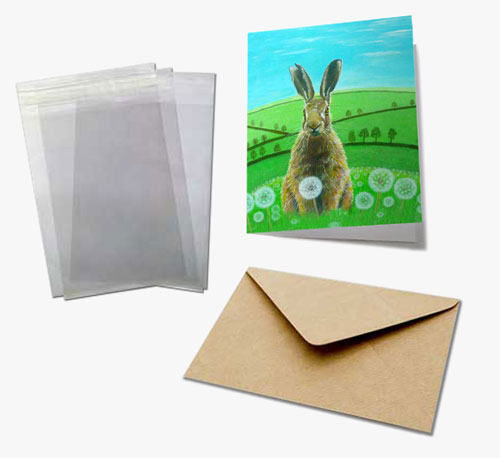 Find out how easy it is produce your own greeting cards
Get started designing and printing your cards now, the minimum greeting card order is just one card. Remember that you are not committed to the high quantities or costs of traditional printing methods like offset litho, which means you can cut down your costs by only printing what you sell and you benefit from not having unsold cards that have cost you money to produce and may never sell at all.
Please note that we use a different website for card printing and it uses a different login system to enable you to save and retrieve your card designs. Please also note that greeting card printing is NOT a fine art giclee service.
Learn More Greeting Card Printing